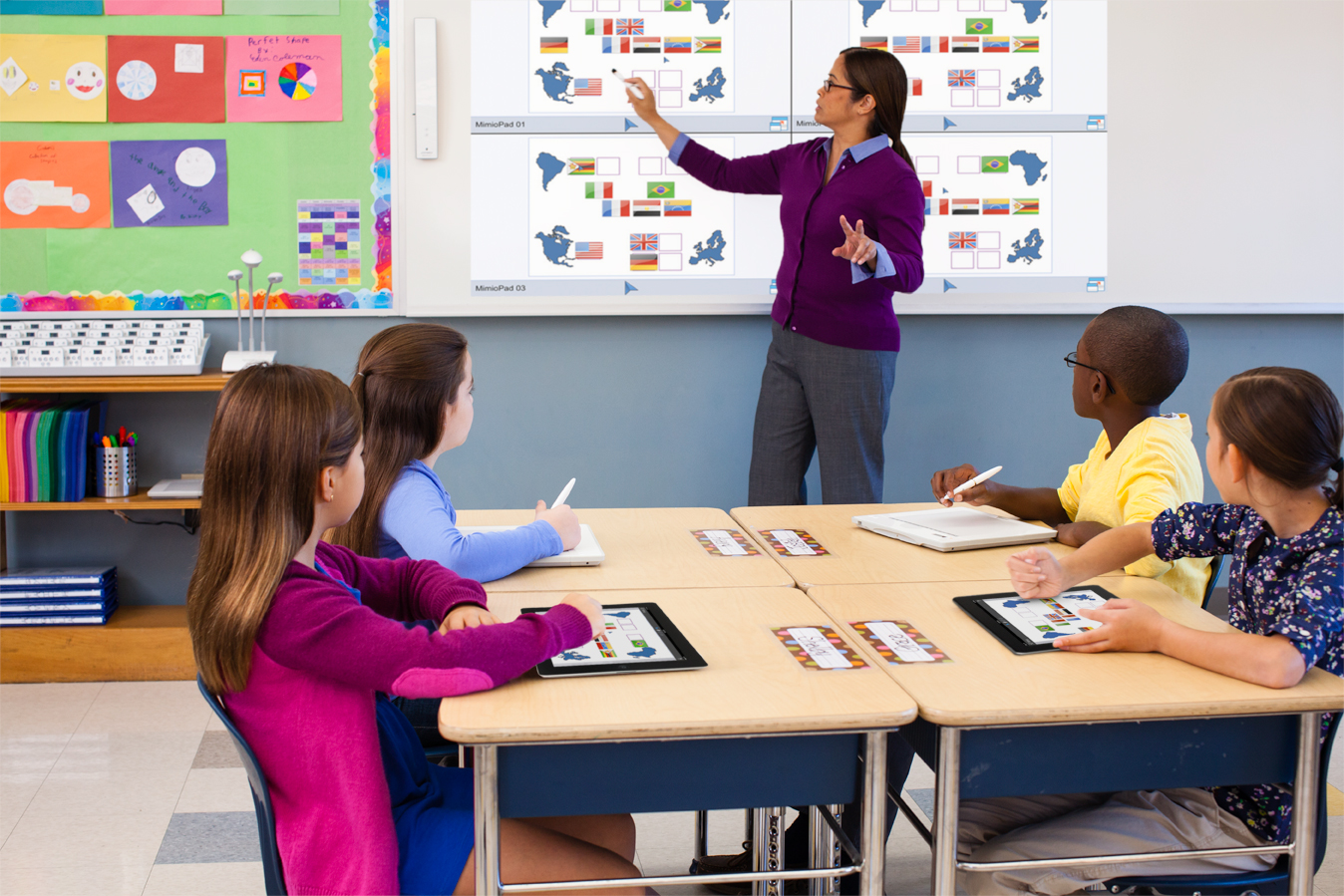 Bringing interactivity, collaboration, and assessment to your schools is easier than you think! We've compiled a list of easy-to-use, engaging, and effective solutions as a great starting point. We've also included our top guides, so you can dig deeper into the best way to select, evaluate, and implement these interactive solutions.
Informative Tech Guides
A Helpful Guide to Interactive Solutions in the Classroom
This 14-page eBook provides guidance for selecting interactive learning solutions. For example, educators will learn the top things to consider when preparing to select front-of-the-classroom technology for their schools. Readers will find an in-depth overview of a variety of solutions with pros and cons to help select the tech that best aligns with their needs and learning goals.
Launch Tech in Your Schools Successfully
This guide features contributions by three amazing educators:
Lynn Reedy, the 2006 Mississippi Technology Educator of the Year and currently an educational technology specialist for Stafford Public Schools in Connecticut.
Kevin Ryan, the director of educational technology and 21st century learning at Kildeer Countryside School District 96 in Buffalo Grove, Illinois.
Travis Rink, an assistant high school principal who also manages Boxlight's global training as the educator advocacy leader.
This 30-page PDF covers such topics as:
How to set technology goals and make purchasing decisions
How to set up a tech committee to evaluate needs and resources
How input from inside and outside sources can aid purchasing decisions
How to run a successful pilot program
How educators make their educational technology vendor their partner
The five most common challenges of launching new technology
How to make sure the technology gets used


Collaborate to the Core! 2
This go-to source was created for promoting collaboration skills in students of all ages, from kindergarten through grade 12. The guide is a follow-up to its 2013 sought-after instructional resource, which shares even more tips on how to establish a collaborative environment in classrooms and provides relevant and engaging lessons, organized by subject matter and grade level.
In this content-rich, 36-page guide, you will be presented with months' worth of activities and lessons. It also includes a section entitled "7 Tips to Your Collaborative Classroom Makeover," which gives helpful information that will guide teachers as they consider adjusting the physical spaces in their classrooms to increase collaborative learning. It also supplies lessons in math, language arts, science, and social studies for three grade ranges encompassing the K-12 spectrum. Of course, all lessons meet the Common Core State Standards, include tips, and can be used with or without educational technology.
Let's face it: Research shows that collaborative learning develops higher-level thinking, and students who work together understand and retain information better than students who work on their own. Furthermore, collaborative learning has become the new norm in K-12 pedagogy, and it's just too important to students' success to risk leaving anyone behind. Be sure to visit our website to access all of our helpful guides.
Smarter Solutions for Your Classroom
If you don't already know about our MimioTeach™ solution, you should! It conveniently turns any whiteboard into an interactive whiteboard using a classroom computer and a projector, giving you whole-class learning in under a minute from set up to launch. And with the addition of our MimioMobile™ collaboration app, teachers can share, present, and control the MimioTeach from anywhere in the room using their mobile device. As they say on TV, "But wait, there's more!"
MimioTeach and MimioMobile Promotion
This week, we are kicking off the spring season with a special promotion. If you buy a MimioTeach portable interactive whiteboard, you will get three years of our MimioMobile collaboration and assessment app FREE for your entire classroom! This offer also includes our award-wining MimioStudio™ classroom software, which allows you to create dynamic lessons and collaborative activities, and perform formative and summative assessment. You can also seamlessly open a variety of files—including Notebook, Flipchart, Blackboard, and PPT—then save your lessons as MimioStudio .ink files. Complete details of this promotion can be found here.
With our helpful guides and simple-to-use technology solutions, any classroom can incorporate effective whole-class learning with ease. We work with you to determine which solutions will best fit your educational environment, curriculum, current technology setup, and budget. Discover for yourself what the classroom can be with Boxlight.