Spring is in full bloom and signs of new life are beginning to emerge everywhere. This time of year is an exciting one for teachers as there's a renewed commitment to continue making an impact in the classroom—but there is still a lot going on with spring breaks, end of year assessments, ensuring standards are being met, and much more. For teachers, the challenge to stay motivated to finish the year strong and keep students engaged remains a mission.
Now is the perfect time to enhance your lessons so you can finish the school year on a high note. Here is our collection of engaging themed content for April:
If you enjoyed the above content, consider joining MimioConnect™, our interactive teaching community, to access more of our valuable lesson content and resources. Click here to register today!
Create Powerful Lessons With Interactive Content
For many educators, finding new ideas to keep instructional strategies and lessons fresh is a constant in the teaching journey. However, using your own materials and putting a new spin on them has never been easier when using the MimioStudio software. With just a few clicks of your mouse, you can add a range of educational content to make your lessons even more powerful. You are able to easily add video clips, sound files, Flash multimedia interactive objects, and images to enhance any lesson.
Additionally, you can add most other lesson resources you already have such as PDFs, Word files, PowerPoint files, and even other interactive whiteboard files. Incorporating these files will allow you to make them interactive and give you the ability to use any of the MimioStudio tools with your students. To insert any type of file, click on Insert > File from the top menu in MimioStudio or click on the Insert File icon on the floating MimioStudio toolbar, located under the Shape tool. You'll then be asked to browse your computer for the file you want. Simply select the file and click Open. The content piece you selected will be ready.
Learn more in our upcoming "MimioStudio: Adding Content" Quick Learn session, offered on April 5 at 7:00pm ET and April 18 at 8:00pm ET.
It's Time to Go Mobile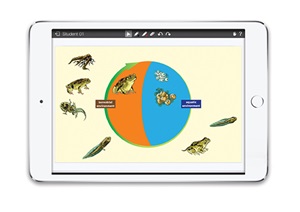 Mobile devices—whether school-provided or through BYOD (Bring Your Own Device) initiatives—have been steadily increasing their relevance and presence throughout classrooms everywhere. Putting these tech tools into the hands of learners can not only make learning more engaging, but also powerfully effective if implemented intentionally. The diversity of devices available (iPads/iPhones, Android devices, Chromebooks, etc.) creates a great opportunity for students to use whatever technology is available to them. The power of the mobile device isn't necessarily the device itself, but how it is used in the educational space.
Too often, I have seen schools implement a technology resource such as mobile devices with no clear support or resources to make it truly meaningful. With the use of the MimioMobile™ collaboration app, you can integrate virtually any device you have in a classroom and bring out the true learning potential of the device. It makes no difference which platform of mobile device, Chromebook, or even computer you have already implemented, MimioMobile brings a variety of options to life.
Using MimioMobile, you can deploy true collaborative lessons to each student device where all are able to work on an interactive lesson and collaborate with each other with the front-of-the-room display. Student devices are also able to be given one-to-one control by the teacher and have full control of the teacher computer in order to present a lesson or accomplish a task. A third powerful feature comes in the form of assessment. Who knew that the mobile devices you already own have built-in assessment capabilities that include multiple choice, true/false, as well as short answer and essay answer options? Using MimioMobile, you can bring out the real power and easily integrate your devices through simple assessments, giving you real-time feedback from your students.
There are also a number of powerful teacher administrative controls at your fingertips, such as being able to freeze all device screens and on-screen indicators when students are not engaged in the application. If you are already a Mimio user, you have the ability to use up to three devices in your classroom with full access to MimioMobile for free. If you want every student in your classroom to have access, you'll need to purchase an inexpensive yearly license that opens up so many learning opportunities, you'll wonder what you did before learning about MimioMobile!
There are a number of training resources you can use to learn more about all of the Mimio products and software. Discover how you can get started with MimioMobile from a Mimio expert teacher during our "Mimio Goes Mobile" Quick Learn session, offered on April 11 at 7:00pm ET and April 30 at 8:00pm ET.
Interested in checking out more of the Quick Learn sessions offered this month? Click here to view our complete list!