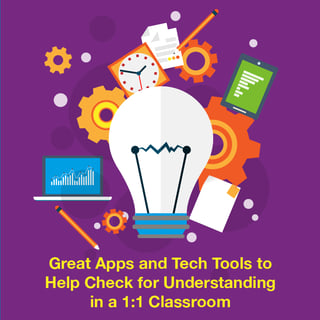 Whether it's called a formative assessment, a check for understanding, an exit ticket, or something else, good teachers find ways to gauge their students' level of comprehension. They know that an important benefit of assessment is that it informs their instruction.
In the traditional classroom, there are three general approaches for gaining this information from students. The first is the oral response: a choral response, an individual answer, or sharing with a partner. The second approach is written – commonly via dry erase boards ("show me" boards) or exit tickets to wrap up the end of the lesson. The third approach is physical. Students can raise their hands – showing a thumbs-up for understanding, or raising one to five fingers as a rating scale. They can also move around the room and "vote with their feet."
Many of these approaches are the tried-and-true assessment methods of highly effective classrooms. However, today it's possible for teachers to offer much more efficient methods for students to accomplish the same thing, while at the same time tracking student data to monitor levels of understanding as a class and as individuals. Listed here are some great apps and other tech tools for accomplishing this.